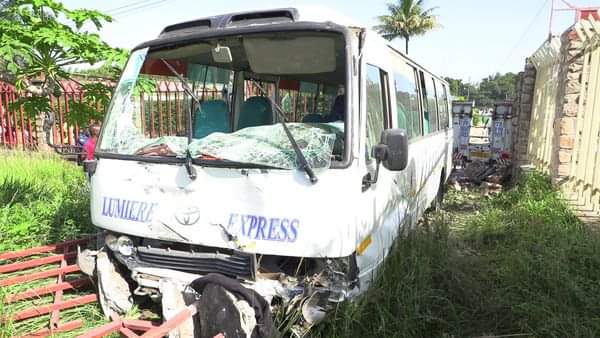 Bujumbura town has recently been an arena of traffic accidents theatre. Indicators regulating traffic in various roundabouts no longer work except in few corners.  As a result, many accidents have occurred, leading citizens to wonder whether there is a frank collaboration between the drivers and the police or none of them knows what should be done to respect the highway code.
7 :00 a.m.  at Gikungu suburb.  We are in front of the Kamenge military hospital exit.  One can't blink an eye to a heavy traffic in this moisty morning.   Within 10 minutes, three risks of road accident are already recorded.  The riskiest concerns an "Allion" brand car from Mutanga Nord which has just hit a bus coming from the city centre via Boulevard Mwezi Gisabo.  A few minutes later, as we move towards the « Gare du Nord » roundabout, nine accident risks are counted.  The reason is traffic jams.
At the roundabout of the United Nations (commonly called Cotebu), within the same time interval, we observe eight risks of accident.  The muddled movement of street vendors known as hawkers rushing to the Cotebu market appears as one of the causes .  8h51 minutes, we finally arrive at the city center, roundabout NOVOTEL.  The traffic lights no longer function.  Some were hit by drivers who fled, leaving these public assets desperate for repair.  In the next 10 minutes, we notice four risks of accident.
At a time some bus drivers complain about the poor state of the roads, lack of consistent regulation of traffic lights, others think rather about the state of vehicles, precisely the hiaces that help in public transport in Bujumbura town but no longer fit for the same service.
Old Buses, One of the main Causes of Accidents
Not long ago, We have seen buses caught on fire, others losing control because of malfunctionning brakes.  The most recent is the one that broke into the military hospital through the exit door from Mont Sion Gikungu.  Nevertheless, the Van transport agency entered the field of public transport with a good number of vehicles.  30 Hyundai Coasters.  Later others arrived including those from the new Chrono Logistic agency.  But the question that still haunts city dwellers : why the presence of old hiaces still in circulation?
"The prices set by the government without considering everything necessary (spare parts, lubricants, fuel, oil changes, taxes and duties, administrative documents) for well-coordinated pubic transport trigger the losses.  Without significant profits, there cannot be enough financial capital to completely replace these notorious old hiaces," said Charles Ntirampeba, president of the association of transporters of Burundi, Atrabu in acronym.
According to Dénis Bukuru, Director General of OTRACO, "Most of the buses used in transport do not undergo technical inspections on a regular basis.  It is up to the police to answer to why they are still in circulation."
Charles Ntirampeba also argues that senior officials are the ones supposed to take the subsequent measures.  "At the Atrabu level, we are asking the Ministry in charge of transport to convene a meeting to which all stakeholders should participate in order to properly address these issues."
 Behavioral Change, One of the Solutions…
According to Charles, it will be difficult to eradicate this problem, but little by little it will be solved altogether.  "Today it is normal to see the rising risk of accidents.  But the rate at which people are breaking traffic lights, road signs, is shocking.  You wonder if they know how to behave properly on public roads," he points out.
As for the police, it would be wise for all drivers to take responsibility. "Imagine you're not late, there's nothing alarming, but you're just going through a red light.  In other words, you were given permission to drive without merit," said a police agent who did not want to mention his name.
To reach a level of well controlled driving and reduction of accidents on the roads, Yvan Dushime, a 26-year-old young man, suggests that we must follow the principles and stick to our personal commitments: "It is true, everyone drives in their own way.  But let's respect the road signs.  Let's change behavior in order to better ensure safety on our roads because the road is a common good," he concludes.