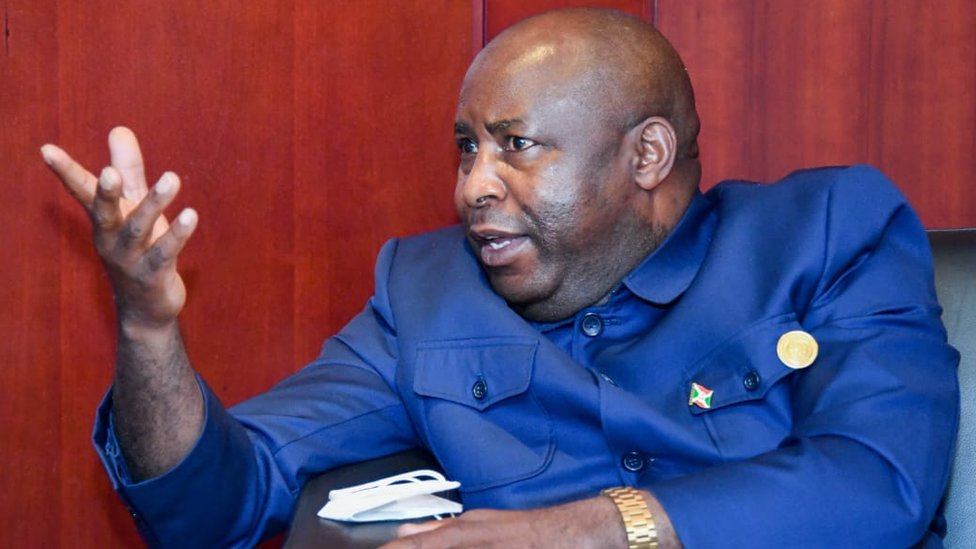 During the second part of his interview with talk show host Jerome Niyonzima, President of Burundi Evariste Ndayishimiye stressed his vision of Burundi as an emerging country in 2040.
 "We are currently shaping the vision. We started by assessing what is available to citizens in developed countries. We envision a Burundi that is globally respected, peaceful, and provides citizens with a sense of security. Additionally, every citizen should have access to sufficient food and housing, quality education to ensure a bright future for our children, healthcare services, and overall happiness. A country that provides modern infrastructure, including roads and electricity, to attract tourists", he said.
President of Burundi Evariste Ndayishimiye highlighted the importance of cooperatives in his vision for Burundi as an emerging country in 2040. He stated, "Cooperatives will be key to achieving our goal of a prosperous Burundi. I have taken the time to understand how cooperatives can contribute to a country's development, as seen in the United States and Germany where they played a significant role in the growth of economy. I am convinced that cooperatives will play a vital role in bringing our vision to reality."
President Evariste Ndayishimiye commented on the positive signs that show progress. He contrasted this with the government's previous vision of Burundi in 2025, where they promised cities resembling Dubai and New York: "I was the first to point out that those were lies, as at that time, Burundians were not working and were dependent on NGOs for basic needs. However, the mentality of the Burundian people has changed, and they are now focused on hard work." Ndayishimiye cited the example of visiting schools and finding most students raising pets in addition to their studying, indicating a shift in mindset towards a more productive approach: "Out of 30 students, 20 have pets. This shows that the Burundian mentality has transformed."
Despite voices speaking out against the high cost of living in Burundi, President Ndayishimiye did not acknowledge the presence of hunger in the country. He argued, "If people were truly hungry, maize crops would not be drying up in the fields. I challenge every Burundian who claims to be poor to explain their situation to me, and we will see if it is not due to their own fault."
President Ndayishimiye emphasized the importance of Burundians preserving their native language as a means of asserting their independence and promoting development. He stated that it was unacceptable for someone to return from Rwanda speaking Kinyarwanda, implying a lack of attachment to one's mother tongue. The President also condemned the double standard where people ridicule those who speak poor French, but not those who struggle with Kirundi. As a show of support for the preservation of Kirundi, Ndayishimiye called for council minutes to be written in Kirundi and expressed his willingness for his counselors to prepare decrees in the language.
President Ndayishimiye remarked that Burundi enjoys positive relations with other countries including Rwanda. He highlighted that there have been recent discussions and mandated the visit of his envoy to the country, indicating that there are no issues between the two countries.